ASSESSMENT AND TEAM BUILDING
---
Rath, Tom. Strengths Finder 2.0. Gallup Press, New York, 2007. 174 pp.
This is the book that will help you know yourself and your team members. Building on your strengths makes a lot more sense than spending most of your time trying to improve your weaknesses. With a code from the back cover of each book or after simply buying a code from www.strengthsfinder.com, you can discover your top five strengths. Bridges recommends that every team member discovers their top 5 and that the team spends time getting to know each other's strengths.
---
Hirsch, Alan and Tim Catchim, The Permanent Revolution: Apostolic Imagination and Practice for the 21st Century Church. Jossey-Bass, San Francisco, 2012. 305 pp.
If you want to build a great leadership team, it's important to understand the different types of leaders and their gifts that God has given to the church. Read this book to understand all of them listed in Ephesians 4: apostle, prophet, evangelist, pastor, teacher and shepherd. You really need to read this book if you can't figure out why you can't seem to fit in existing churches! Jesus started a permanent revolution that needs permanent revolutionaries. Are you one of them?
---
Ware, Corinne. Discovering Your Spiritual Type: A Guide to Individual and Congregational Growth, An Alban Institute Publication, 1995. 137 pp.
What helps you connect with God? Is it great teaching, loving community, a sense of mystery, or finding a hands-on way to be with the poor? This book is a must even if you are not a Bridge Leader. Corinne describes the four basic ways that different people feel most connected with God. When you think about it, it explains a lot. You can see these four types in different types of people on your team and in existing congregations as well. Why can't we all just get along? Maybe because we haven't yet all read this book.
---
Halter, Hugh and Smay, Matt. The Gathered and Scattered Church., Zondervan, Grand Rapids, 2010. 205pp.
Some people want the church to go out into the community. Most want the church to do a better job of nurturing our own. Hugh and Matt argue that we gather to equip for scattering. Read this book for the stories of churches that have learned to do both. Hand this book to the pastor of any church that might be willing to support you as you go out into the community.
---
COACHING
---
Ogne, Steve and Tim Roehl. Transformissional Coaching: Empowering Leaders in a Changing Ministry World. Nashville: B & H, 2008. 286 pp.
Every Bridge Leader has a coach. And B ridge Leaders often coach others. Nurturing Leaders is at the heart of Bridges, and this book offers lots of practical advice for exactly how to do that nurturing for the leaders around you.
---
THE BRIDGING PROCESS (acting like a missionary)
---
Olson, David T. The American Church Crisis. Grand Rapids: Zondervan, 2008. 237 pp.
If you are wondering how the church is doing in America, this book will let you know. It doesn't look good. Alongside many other studies using different methodologies, this book confirms that the current way of doing church in America isn't working the way it once did. We need new ideas, new models, and new winds of the Holy Spirit. That is what Bridges is all about.
---
Daniels, Gene. Searching for the Indigenous Church.
If we can't do church like we have always done it, what do we need to do? Gene is a missionary in Central Asia that describes well the process that Bridge Leaders have to go through to discover what church looks like in their context.
---
Hiebert, Paul G. The Gospel in Human Contexts: Anthropological Explorations for Contemporary Mission. Baker Academic. Grand Rapids, 2009. 213 pp.
If you want an in depth explanation of the way great missionaries engage people who haven't yet discovered Christ in their community, this is the book. This is not an easy read. Hiebert will help you understand culture, learn how to study people and cultures, and inspire you to develop the skills it takes to discover and articulate the gospel in another culture, whether on the other side of the world or across the street in your neighborhood. Published after Hiebert's death, this book brings together the comprehensive missiology about which Heibert taught and wrote for most of his life.
---
Hirsch, Alan. The Forgotten Ways: Reactivating the Missional Churches. Grand Rapids: Brazos Press, 2006. 295 pp.
Alan gets it. We can no longer expect most people to "be attracted" and join an existing church. We have to go to them. We have to employ the cross-cultural skills of missionaries to engage people right here in the Western world. So what is it we need to learn? How can we move forward? Read everything by Hirsch.
---
Hirsh, Alan with Artclass, Darryn. The Forgotten Ways Handbook: A Practical Guide for Developing Missional Churches. Grand Rapids, MI, Brazon Press, 2005. 222 pp.
After Alan wrote The Forgotten Ways, many said, "Great theories and explanations Alan, but what do we do?" Well Alan delivered. In reality, no one can tell you what to do in your context except for the Holy Spirit and you and your team. But Alan and Darryn take you as far as they can in this great tool for Bridge Leaders.
---
Cole, Neil. Church 3.0: Upgrades for the Future of the Church, Jossey-Bass, San Francisco, CA, 2010. 274 pp.
Neil is one of the few who get's it. Church planting in the USA isn't primarily going to look like the parachute drops of past years. Things are changing and new models are needed; models that understand the cultural gulf between those in existing churches and those outside of existing churches. Neil gives prophetic suggestions for facilitating organic church multiplication.
---
Finney, John. Recovering the Past: Celtic and Roman Mission. Longman and Todd, Ltd., London, 1996. 144 pp.
Did you know the Brits where Christians before the Anglo-Saxons wiped them out after the fall of the Roman Empire? And then England had to be convinced to follow Christ all over again! There were two main groups of missionaries, one Celtic and one Roman. Their different methods explain well the difference between normal church planting in America as done over the past decades and the approach that Bridges takes, which is much more Celtic. If you have any Irish or English in your past, then reading this book is even more meaningful because you could learn the methods and strategies that worked for first drawing your ancestors to Christ.
---
DIGGING FOR THE GOSPEL
---
Newbigin, Leslie. Foolishness to the Greeks. Grand Rapids: Eerdmans, 1986. 154 pp.
Bridge Leaders are missionaries in America, and Newbigin was a returning missionary to Great Britain. He was one of the first to get it. To share the good news, we need to understand how our culture blinds us to certain truths about Jesus and the gospel. Newbigin exposes Western cultural synergism that defrauds the Gospel of full power and meaning. His provides useful insights for Bridge leaders who are digging for the gospel in unchurched communities.
---
Heath, Chip and Heath, Dan. Made to Stick: Why Some Ideas Survive and Others Die. Random House, New York, 2008. 323 pp.
Bridge Leaders have to communicate. And Bridge Leaders have to find ways to communicate the good news. It isn't as easy as it sounds. Words matter. First you have to listen to your unchurched friends well enough to understand and use their everyday language. Then, using their words, you can use the ideas in this book to share the good news in a way that sticks in people's hearts and brains so that they remember it for life. The stories are great. It's an easy read. And you will probably remember it for life.
---
Covey, Stephen, R. The 8th Habit: From Effectiveness to Greatness, Free Press, NY, 2005. 409pp.
Covey speaks the language of business people. And he has coined language that helps secular people find their spirit and their mission in life. He calls it "finding your voice." For Bridge Leaders, Covey's approach offers a great example of contextualizing spiritual truths for people who live in a secular worldview. If Covey can do it for the sake of helping us be great leaders, can't we do it to help people find life in Christ and Christ's mission? Read this book and take the challenge to coin language for your own community.
---
Ray, M. and Myers, R. Creativity in Business. Broadway Books, 2000. 218 pp.
Did you know that Harvard and Yale professors are finding language to help us discover and use spiritual reality? They did it through listening to the top leaders in corporate America, government, and the non-profit sector. They even lay out many of the practices that lead to discovering and developing the necessary "creativity" found within each one of us. For Bridge Leaders, here is an example of not only learning secular language but also laying out a path of discipleship for secular ends.
---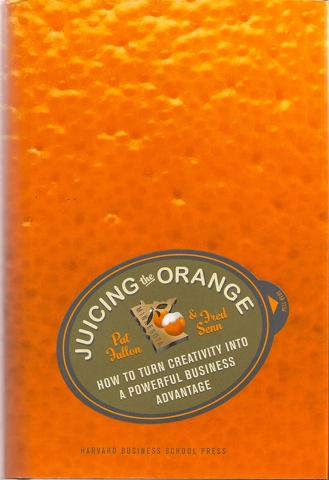 Fallon, Pat and Senn, Fred. Juicing the Orange: How to Turn Creativity into a Powerful Business Advantage, Harvard Business School Press, Boston, Massachusetts, 2006. 228 pp.
Does marketing matter? Pat and Fred share case studies to show how creativity often makes the difference between success and failure. Sharing the gospel is a communication effort that deserves our best creative efforts, and this secular book can help you get there.
---
TENDING THE GROWTH (Making Disciples)
---
Willard, Dallas. Renovation of the Heart: Putting on the Character of Christ. Colorado Springs, CO.,NavPress, 2002. 269 pp.
You know you need to make disciples, but you aren't quite sure what to do. This book can help. Dallas takes us on a journey into our own souls to understand how we can grow into being more like Christ.
---
Everts, Don and Schaupp, Doug. I Once Was Lost: What Postmodern Skeptics Taught Us About Their Path to Jesus, InterVarsity Press, Downers Grove, Ill., 2008 134 pp.
You know you don't want to stand on a street corner or share the Four Spiritual Laws. But you wonder what you can do to help your friends move towards Christ. Don and Doug share how they help post-modern college students go through five thresholds towards following Jesus.
---
Rice, Jesse. The Church of Facebook: How the Hyperconnected Are Redefining Community, David C. Cook, Colorado Springs, CO., 2009. 231 pp.
This book isn't about how to have a church on Facebook. It's much better than that. Jesse takes us deep into the human heart and helps us understand what it takes for us to experience deep relationships and community. Then he helps us understand what we can do with Facebook and other social media to help those types of relationships and community happen for us. This book will not only change the way you use Facebook but might also help you enjoy a lot more of the abundant life. And it might help Bridge Leaders make disciples who do the same.
---
Halter, Hugh and Smay, Matt. The Tangible Kingdom Primer: An Eight-Week Guide to Incarnational Community, Missio Publishing, 2009. 197 pp.
This is a basic discipleship program made for the high-commitment, Christ-following network that God started through Hugh and Matt. If Bridge Leaders go through the Bridging process like great missionaries, each Bridge Leader could end up with their own primer for their own community. Use this primer for your small group, your core group, or for anyone who wants to get serious about following Jesus. Use it to inspire your own vision for discipleship in your community.
---

McNeal, Reggie. Missional Renaissance: Changing the Scorecard for the Church. San Francisco, Jossey-Bass, 2009. 193 pp.
What we measure is what we get. Most churches measure attendance and giving, and that is what they get: church members who come and give. And yet Jesus calls us to go. Bridge Leaders should read this for ideas on how to measure discipleship rather than just attendance and giving. It's crucial for making disciples that make disciples.
---
Patterson, K., Grenny, J., Maxfield, D., McMillan, R., Switzler, A., Influencer: The Power to Change Anything. New York: McGraw-Hill, 2008. 299 pp.
Discipleship is about helping people and communities change. This book can help. It can help you raise children, finally get yourself to exercise, and help you gain the cooperation of people around you. That doesn't mean it's easy. Within the materialistic world of these secular writers, you won't discover better strategies anywhere else. Bridge Leaders can use the insights in this book to help structure redemptive communities of discipleship.
---
Breen, Mike and Absalom, Alex. Launching Missional Communities: A Field Guide. 3DM, Pawleys Island, SC, 2010 228 pp. (visit www.weare3DM.com)
God is doing a great work through 3DM, a movement that started in England, 3DM provides practical resources for people in churches that want to learn how to follow Jesus in groups that engage the needs of the community. How can we make disciples in America? Here is one way to do it. This handbook provides lots of practical advice. Their huddle concept for training leaders expresses well what Bridges started doing several years ago.
---
FUNDRAISING
---
Lukovich, Deborah.  The Secret To Fundraising
Deborah's book offers a more spiritual approach to fundraising.  In this fast read, you will feel inspired through real stories and learn that the key to attracting (instead of begging) the resources you need is making emotional connections with people.  Deborah empowers you with a new and more abundant mindset and walks you through her formula of Story + Direction + Relationships.  By putting this new mindset and formula to work for your ministry, you will be able to inspire others with your story, be clearer about what you need and how people can help, and genuinely and strategically cultivate relationships that will result in all the resources you need to achieve your ministry's vision.
---
GATHER THE HARVEST
---
Halter, Hugh and Matt Stay. The Tangible Kingdom. San Francisco, Jossey-Bass. 2008. 191 pp.
You are wondering what new ways of doing church might look like? Hugh and Matt provide lots of stories of experiments in doing church that are going on all over the Western world. Read this book to stir your imagination of what church could look like and to learn about some of the missionary practices that lead in the right direction.
---
Garrison, David. Church Planting Movements: How God is Redeeming a Lost World. WIG Take
Resources, Arkadelphia, AK, 2004. 355 pp.
Bridges doesn't want to start a church or even several churches. Bridges seeks to help facilitate a movement of God in Los Angeles through which millions begin to follow Christ in communities. We want to train 1000 leaders and see 100 Christ-following communities by 2021, just in the Los Angeles area. Can it really happen? Well, it has happened in India, China and Ethiopia in the past 50 years. David describes the signs of movement taking place today even in America. How can we join a movement of the Spirit in the USA? David shows us some real possibilities.
---
LEADING
---
Godin Seth. Linchpin: Are You Indispensable? Penguin Group, New York, 2010. 244 pp.
This book is for anyone who wants to get work or keep working in the future. Our world is changing. Our economy is changing. College degrees and following the rules don't necessary get us the job for which we were hoping. Seth tells you what you can begin doing now to make sure you aren't one of the replaceable parts of our economy, no matter what your education level. For bi-vocational Bridge Leaders, this book can really help.
---
Collins, Jim. How the Mighty Fall and Why Some Companies Never Give In. New York: Harper Collins, 2009. 222 pp.
Bobby Clinton from Fuller Seminary maintains that 3 out of 4 Christian leaders fail to end well in ministry. Sexual scandals. Power struggles. Messing up with money. Don't think it can't happen to you. Read this book to learn how to avoid the mistakes that so many other leaders make regularly.
---
Seth Godin. Tribes: We Need You To Lead Us, Penguin Books, London England, 2008. 147pp.
Seth wants you to start now. Start leading. What are you waiting for? With the internet, you don't have to wait for the approval of traditional authorities or until you get the right degree. Isn't this what Jesus did? He didn't follow the normal path to be a rabbi or go the right school or wait for the religious leaders of his day to authorize him for ministry. This isn't a Christian book, but Seth describes well the opportunities that our on-line, inter-connected world provides for Bridge Leaders.
---
Brafman, Ori and Beckstrom, Rod A. The Starfish and the Spider: The Unstoppable Power of Leaderless Organizations, Penguin Group, NY, NY. 2007. 228 pp.
Every movement needs structure of some type. We live in a time when spider organizations work less and less. More starfish organizations like wiki, e-bay, and al Qaeda seem to be turning the world upside down. Rod & Ori describe both types and help you look for the "sweet spot" on the continuum between starfish and spider-structured organizations. Bridge Leaders can use this book to understand the importance of the right structure for the right time in their community.
---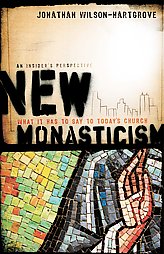 Hartgrove-Wilson, Jonathan. New Monasticism: An Insider's Perspective, What It Has To Say To Today's Church, Brazos Press: Grand Rapids, MI., 2008. 147 pp.
Thinking about moving to the inner-city to live together as a witness for Christ? So are a lot of other people. New monastic-type communities are popping up in cities across America. Read this book to learn more about them, connect to the network, and discern what to do next.
---

Pierce-Dunker, Marilee. Man of Vision. Authentic & World Vision, 2005. 243 pp. (This book is a reprint of the original from 1980.)
What a great man. What a messed up life. And yet God used him. Jim Pierce founded World Vision. His impact is still reverberating around the world. Read this book not only to ponder the greatness and mercy of God but also to encourage yourself to get the support and help you need as you lead others. All Bridge Leaders need to read this book before moving to far along in ministry.